---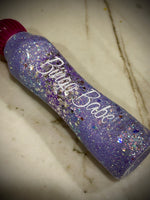 Sale
Super sparkle Bingo Dauber
FluffyFrankCreationsLLC
Sale price $18.50 Regular price $20.00
get your bingo game on!!!!  Take your play to the next level with these custom created bingo daubers'
each one is hand glittered in color of your choice!!  Choose a funny saying (examples pictured or create your own) or add your name!!  Customizable on BOTH sides!!!
daubers are sanded, painted, glittered then coated with UV resin and glitter of your choice!! Final coat done with 2 part epoxy resin for durability.  Lettering is permanent vinyl 
MADE TO ORDER Current production time is 2-3 weeks to allow proper curing   Comes with gift bag!!
Ribbed caps makes it easier to remove dauber lid

11 different colors  - Red, Blue, Green, Violet, Yellow, Magenta, Pink, Purple, Teal, Orange, Ruby Red

Each Dauber is 3 oz, Brand new, Never used--

Keep out the reach of children--Not to be ingested

Daubers Made in the USA 
PLEASE SPECIFY FONT TYPE AND COLOR OF FONT
THESE CAN BE REFILLED!!!  When your ink is empty, simply "pop" off the sponge dabbed using gloves   Bingo daubers are available at many places like Walmart or dollar tree  simply use ink from a new dabber and pour into this one!!  Fanned ink may also be purchased through Amazon  (Sorry, I do not sell ink refills)
please note this variation contains chunky glitter. May not be 100% smooth. Also, additional layers of epoxy are necessary with chunky glitter.