---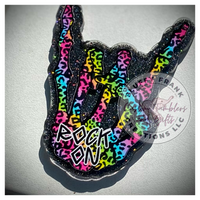 Rock on Skelly hand keychain
FluffyFrankCreationsLLC
Introducing our Glitter Skeleton Hand Rock On Acrylic Keychain! This edgy and eye-catching keychain is perfect for those who love to rock out and show off their unique style. Featuring a detailed skeleton hand forming the iconic rock on symbol, this keychain is a must-have accessory for music lovers, concert-goers, and anyone with a rebellious spirit.
What sets this keychain apart is its customizable glitter color. Choose from a variety of dazzling glitter options to personalize your keychain and make it truly stand out. Whether you prefer a bold and vibrant shade or a subtle and sparkling hue, you can find the perfect color to match your individuality and style.
Crafted from high-quality acrylic, this keychain is not only stylish but also durable and long-lasting. The skeleton hand design is intricately detailed, capturing the essence of rock and roll with its rebellious energy. It's a striking statement piece that adds a touch of attitude to your keys, backpack, or purse.
Whether you're a fan of classic rock, heavy metal, or any genre that gets your heart pounding, this keychain lets you proudly display your love for music. It's also a fantastic gift for friends, family, or fellow music enthusiasts who appreciate the power of rock and the symbol of rebellion.
Make a bold fashion statement with our Glitter Skeleton Hand Rock On Acrylic Keychain and let the world know that you're ready to rock! Choose your favorite glitter color today and add a touch of rock and roll flair to your everyday life.